Auto Restoration in Minneapolis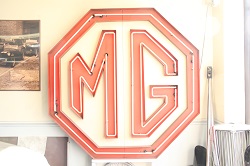 At Quality Coaches, Inc., auto restoration is in our blood. Our owner Mark Brandow has been breathing new life into classic cars since the 1960s and has had a hand in numerous successful restorations. Mark's focus, and our shop's focus, is on European cars—specifically British makes and models. That said, we can restore just about any classic car you drive into our shop!
When it comes to auto restoration service in Minneapolis, MN, our level of excellence and engrained capabilities can't be beat. We stock a huge inventory of parts and have access to just about any components that might be needed, not to mention the experience that comes with custom welding and general auto restoration techniques. If you're moving forward with an auto restoration project—no matter the condition of your vehicle—we're the ones to help you see it through to perfection.
Our restoration emphasis is on British cars, including Austin Healey, Jaguar, Lotus, MG and Triumph.
Owner Mark Brandow's foray in the auto restoration business started with a 1947 MG TC (pulled from the jungle in Malaysia while he was in the Peace Corps)!
We can tackle auto restoration in Minneapolis, MN of all types and across numerous vehicles. For major work, we also work with outside partners while overseeing the entirety of the restoration.