Car Suspension Services in Minneapolis
Many car owners don't fully understand the purpose of a vehicle's suspension and the critical role it plays in a smooth ride and in keeping your tires connected with the road. Most suspension issues happen so gradually, car owners may not even be aware that they are experiencing them. Over time though, the ride on your vehicle gets just a bit rougher, bouncier, or gets to the point where you feel every bump in the road. One trip to Quality Coaches can get you the smooth ride you deserve.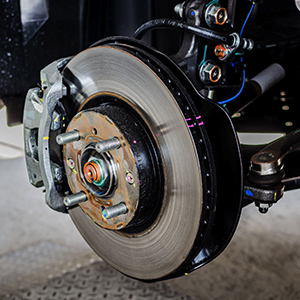 The history of automobile suspensions dates back to the ox cart and carriages. When cars became popular, they were designed to replace carriages, but were capable of greater speeds. New suspensions had to be created. The Model T began using leaf springs, which trace their history to ancient Egypt. They are still used today especially in larger vehicles and for rear suspensions.
Along with leaf springs, suspensions consist of shocks, struts, and the mechanicals that keep your tires on the road while delivering a smooth ride. But suspensions differ between sizes of vehicles and between two and four wheel drive ones. They can change between models and certainly between brands. Foreign and domestic suspensions also have their unique aspects. That is why it is so important you have a suspension repair conducted by a shop that works on all models, foreign and domestic. It is why you should visit Quality Coaches.
The world of suspensions includes factors like sprung and un-sprung weight transfer and spring, wheel and roll rates. For the average driver however, it can be simplified to the main components.
Springs. The main purpose of a vehicle's springs is to absorb impact. Many of today's springs are more sophisticated than a coil of metal. The may involve rubber, pressurized gas and pneumatics.
Shocks and Struts. Not every car has shocks and struts. Some have one or the other. Their purpose is to dampen the springs and provide for greater control when driving. If you need shock replacement, strut replacement or both, remember Quality Coaches can perform a suspension repair on all makes and models.
How do you know when you have an issue with your suspension? There are multiple indications.
You start noticing that your vehicle dives forward when braking or squats backward when accelerating.
When you turn your car around a corner, you can feel it sway.
Your car bottoms out when driving over a dip or railroad tracks.
Your car bounces longer when hitting a bump.
You begin to notice more of the small bumps and your ride becomes over rougher.
Schedule Service Today
We all become so used to the current ride of our vehicle; you really need to pay specific attention to how it feels when driving. Are you satisfied with it? If not, a strut replacement or shock replacement may make a world of difference. Come to Quality Coaches and let us take a look. If your suspension doesn't need help, we'll tell you. If a suspension repair will deliver a better ride, we'll give you a free estimate. You have nothing to lose and a smoother, more pleasurable ride to gain.