Engine Repair & Rebuilding in Minneapolis
Engine repairs cover a broad range of categories. They include adjusting carbuerators and replacing belts and hoses. Engine repairs may start with tracking down an oil leak and discovering, and fixing, what is making that "ticking" noise. When in search of a Minneapolis-St. Paul engine repair service, you want one with a broad range of knowledge and experience. That describes Quality Coaches.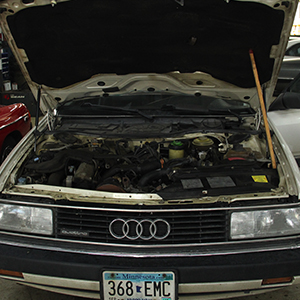 We understand when you are looking for an engine repair service in the Twin-Cities area there can be some apprehension. There is a level of trust, experience, and integrity you want to be comfortable with. Quality Coaches has been providing engine repair service in our area for over 40 years. Our engine mechanic team averages over 25 years of experience. We win the trust of new engine repair customers daily and invite you to discover why.
Quality Coaches performs engine repair work on all makes and all models. This includes foreign cars. When an engine mechanic from Quality Coaches diagnosis your vehicle, he has very likely seen issues just like yours many times before. You can be assured he knows the best way to solve your problem.
Of course the best tactic for your vehicle is to have it properly maintained. By keeping an eye on the smaller routine issues like fluids, belts, hoses, and brakes, you can help avoid bigger, more costly issues. Many of Quality Coaches customers schedule routine visits with us to keep their vehicles running at peak performance. But even with proper maintenance, unexpected engine problems can occur.
When they do happen, our team has access to modern diagnostic tools that can help determine even the most challenging of engine problems. They are trained in the latest techniques to resolve virtually all engine problems that can arise. From engine tune ups to complete engine overhauls and rebuilds, you can count on our engine mechanic team to get your repair done efficiently. They understand that the mechanical work they perform keeps you getting to work and back. It also keeps you and your family safe.
Why should you choose Quality Coaches for your engine repair? Besides our experience and integrity, we are an eco-friendly company. We use electric cars for our "parts runners" that are powered by a 99 panel solar array. We recycle oil to use to heat our shop. We do everything we can to operate a green auto service that is an asset to our planet and our community.
Quality Coaches makes it a policy to have loaner cars available when there are extensive engine repairs to be made. We offer free estimates and when we perform repairs, we warranty our labor for a year and honor manufacturer's warranties on parts. We have 24 hour towing available from Schmidt Towing and we are conveniently located just off 35W at the 36th St. exit.
If you are in search of reliable, trustworthy engine repair service in the Minneapolis-St. Paul area, look no further than Quality Coaches. We've been servicing the automotive repair needs of the Twin Cities since 1972, and would appreciate adding you to our list of more than satisfied customers.
MG Engine Rebuild – Minneapolis
Quality Coaches has been serving the automotive needs of the Twin-Cities area since 1972. Not only do we maintain and repair cars, we restore and even race them. We know engines insides and out, and our experienced mechanics work on all makes and models, foreign and domestic. Engine rebuilds may include:
Valve work
Replacement of head gaskets
Piston and cylinder replacement
An MG engine rebuild is a complicated process, and a lot of things can go wrong. That's why selecting the Quality Coaches team for your rebuild is so important. The mechanics at Quality Coaches average over 25 years of experience each and specialize in MG's. They have access to the latest tools and technology. They are trained in the most modern, efficient techniques to accomplish the work in a timely fashion.
With a background in vintage vehicle engine repair, we perform engine rebuilds of MG's. We take great care in rebuilding these vintage engines using tactics that are only learned through years of hands-on experience.
Before you decide not to get that engine rebuild done, do the math. A rebuilt engine will likely give you tens of thousands of miles worth of more service without having the additional expense of car payments. In fact, those car payments will probably pay for your engine rebuild quickly. Then you will have a car that is running well at much less the cost of purchasing another vehicle.
Schedule Service Today
When you choose Quality Coaches, you will get a complete one year warranty on all labor charges and all manufacturer warranties that apply on parts. We offer free loaner cars and have towing service available 24/7 from Schmidt Towing Service. Make the right choice when it comes to a MG engine re-builder and contact Quality Coaches.